Well here I am writing the first article for my blog. I'm new to blogging so probably need some time to get used to all of this & find my find blogging style. A big thanks to Christian- my wonderful husband- for setting everything up. I still have some tweaks to make and personalize it and hope to get round to this over the next few weeks. And a big thanks too, to the lovely Cara Bush for helping design my logo (Cupcakes on the house when we visit Durban).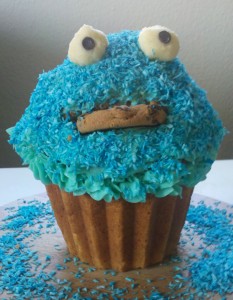 This is the Giant Cookie Monster cupcake that I made a couple of weeks ago. We gave it to a friend's daughter who was turning 6 years old. I like how the coloured coconut appears to look like the Cookie Monster's fur. I had experimented the 'Cookie Monster' first with regular sized cupcakes and those worked well too. But I just love the Giant Cupcake baking mould. I can't wait to try different recipes & maybe even fill it with Chocolate mousse in the inside!
Our friend Thom will visit us in Düsseldorf with his girlfriend, Lisa, at the end of August. Thom has requested a Giant Cookie Monster Cupcake on arrival. But I am thinking of some other creative decorating ideas…maybe something typical American themed to celebarte our American friends arrival or perhaps something German themed to welcome them in Germany.