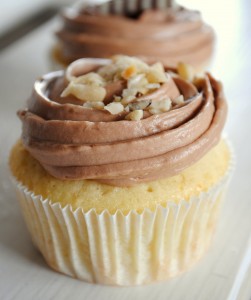 I'd consider this a simple, but elegant cupcake, perhaps something more traditional. A light caramel cake base, a creamy chocolate icing and hidden caramel chunks. The sweet and fragrant smells of caramel fill the kitchen – and are somewhat reminiscent of a retro ice-cream parlour. The kind you'd visit, barefoot after a hot summer day at the beach, with sand in your hair and salt on your lips.
The summer in Germany is rapidly ending, temperatures have cooled and the autumn is fast approaching. As the trees colour to deep shades of copper and prepare to lose their leaves, I find myself with a deep summer nostalgia – longing for sunrays that warm your skin, long days that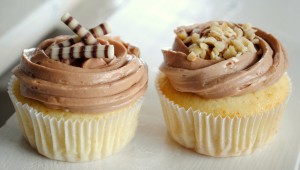 last into the night and the gentle breeze filled with aromas of fresh fauna.
I though this cupcake was the perfect flavour and an appropriate fitting to the end of season. As you look out the window and see trees dance in the wind, watch light raindrops fall, the first bite is a moment of escape, taking you back to summer, caramel flavours and moments where you can't lick the ice-cream as fast as it melts.