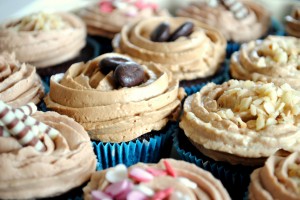 It's not every day that your good friend/ former college roomate from out of town and his beautiful girlfriend visit. I was very glad to have some special friends visit for the weekend and news of the blog had spread over the past weeks…their first request on arrival was for a feast of cupcakes.
"Mega Mix" is the best way to describe the cupcakes I made for the weekend. In theory a mega mix is a medley remix with multiple songs played in rapid succession. In baking terms I'd classify Mega Mix as a selection of variable cupcakes – from mini's to regular size, from chocolate chunk to espresso, and from nuts and mocha beans to stuffed molten chocolate centres. You name it, it was on the tray.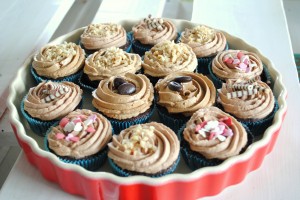 Was there perhaps a hidden agenda to the mega mix baking tactics? Consider this: a big tray of cupcakes. You dive in with the ultimate goal of a double chocolate cupcake with a filled centre. First bite in, you realize you've hit an espresso. It's very tasty but you now have your eye on the cupcake sitting far right. Perhaps that's the double chocolate? Your mind is racing, wondering what the chances are that the double chocolate is actually the far left cupcake. Decision time. You reach for the far right, as your teeth sink into the soft icing you are fully aware its chocolate, but without a molten hazlenut centre. In a panic, you see somebody else reaching in for the a second cupcake. Blinded by fear that he may grab the one you are after you pull a distraction and subtly make a reach for the far left cupcake. Bingo! You've strucken lucky in your third round of the Mega Mix.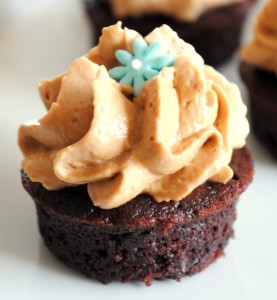 Concluding the afternoon coffee and cupcake lineup were a range of mini's. The perfect bite size cupcake. The best thing about the mini's is that they were wrapper free. With the regular cupcakes, you have the empty paper wrapper on your plate as a reminder of how many you've already eaten, and you find yourself comparing with the others and how many they've had. You feel guilty as you reach in for another. With the mini's…it's a whole new ball game. And you yourself lose track as you pop the third mini in your mouth (or was it the fifth?) Who knows – nobody is counting!