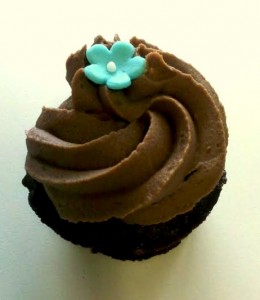 I decided to try a different kind of chocolate icing this week and opted for something other than the tradtional buttercream icing which is on so many cakes and in so many recipes. Cream cheese icing pairs so well with a moist carrot cake or lemon cupcakes, so there is no reason it shouldn't pair well with a chocolate cupcake. To start with, this mini cupcake is an extremely rich and dense chocolate base, almost like a brownie. For the icing, I used cream cheese with powdered sugar and added real melted chocolate. I think that makes the difference. It's rich in chocolate flavour and with the cream cheese, the taste is so different to the sweet buttercream taste.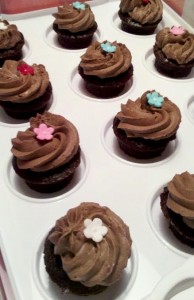 I made these last week to take in to the office. Well, by 9:30am, I couldn't resist and indulged in the first one by myself (The first of three!). The bite sizes are such great portions and you don't need to fuss with plates etc. If you have a cool cupcake carrier like mine, it makes transporting the cupcakes so much easier. Plus the inside plastic portion comes free and makes a sort of tray function which is perfect for offering to your colleagues.
This is by far my one of my favourite recipes. Stay tuned – I will share it in the next post so you can try these at home. I will be trying out different versions and adapting with different flavours over the next weeks.
Cup-cake (kuhp-keyk) noun, "a small cake, the size of an individual portion, baked in a cup shape mould" (Thanks to dictionary.com)