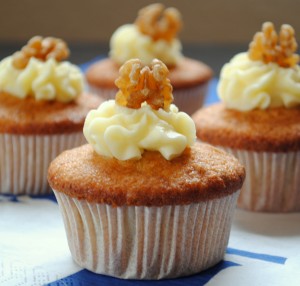 I love baking banana bread and had the idea to try banana cupcakes today. I've had banana nut muffins before but don't think I had ever had a banana cupcake before. These definitely 'taste like more' and since you know they have a banana in them, you don't have such a bad mind while you're munching (or reaching for the second cupcake).
The cream cheese icing is delicious. I added a splash of lemon juice as well to the icing mixture as it enhances the flavour and takes off some of the sweetness, and topped itall off with a walnut.
So, while these are perhaps a little different to your traditional idea of a cupcake, they go perfectly with that cup of mid morning tea or coffee. No need to have a guilty conscious when that second cupcake wanders over to your plate  – a banana is a fruit if I remember right and aren't your supposed to eat at least 2-3 fruits a day?