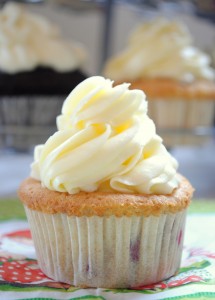 These cupcakes are well deserving of the exclamation mark.
I have been baking alot the past few days. I don't think I can keep up with all the washing of the dishes – we need to invest in that dishwasher. In our house, we follow the saying that 'the chef never washes' which applies to cooking dinner and hot meals (which is probably why I volunteer to cook most nights). We also, however; have the rule that 'the baker washes'. So the baker assumes responsibility of washing all baking dishes and cleaning up the mess (Why did I ever agree to that?).
It was Christian's birthday last week, so I wanted to bake something unique and extravagant. I asked him for ideas and he immediately suggested these cupcakes. The white chocolate pairs so great with the raspberries – it is a genius combination. To be honest I have never tasted a chamagne buttercream, and was a little hesitant at first. But it is quite festive and well fitting for a birthday celebration so I decided to give it a go. You have the sweetness from the champagne mixing with the buttercream, sitting on top of the white chocolate, raspberry cake base - AMAZING. I think these are my favourite cupcakes I have baked so far. It is quite time consuming to prepare the cake batter, but definitely worth it. Feast on!