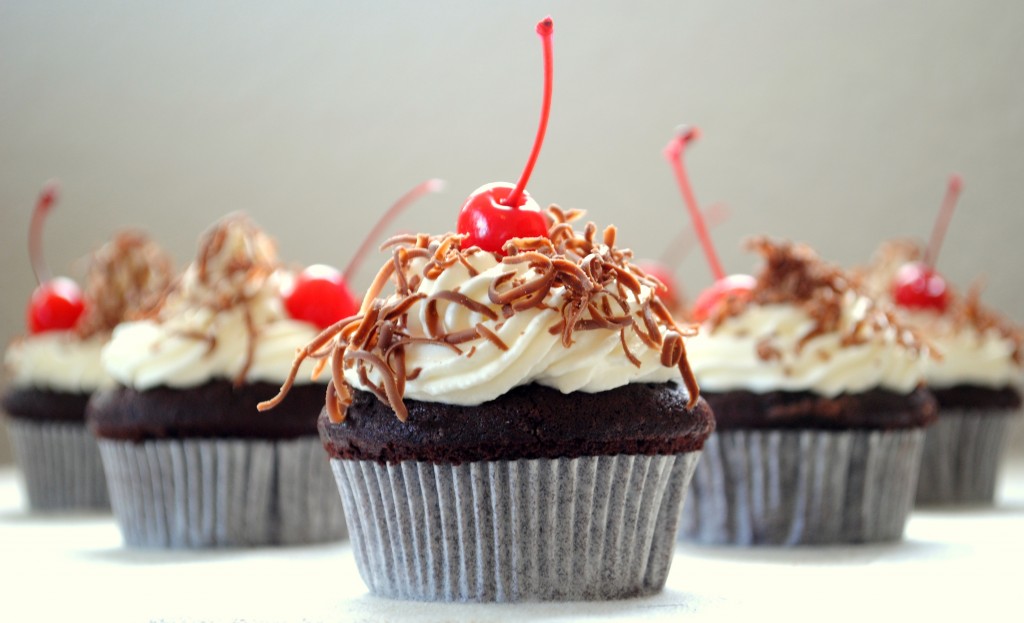 For this week's baking project I decided to pick something a little more German & perhaps more traditional. While black forest cake is usually baked as a full sized, multi-layered cake, I decided to experiment and bake black forest cupcakes. While the cupcakes were in the oven, I read about the history and origin of the black forest cake.
Having assumed that the name originates from the Black Forest area in Germany, I learned that the true inspiration for this "Schwarzwälder Kirschtorte" was not only the dense forests and beautiful highlands with abundant cherry trees, but also the speciality cherry liquor "Schwarzwälder Kirsch Wasser", which gives the cake its distinct flavour (The cake layers are usually soacked in the cherry liquor). Did you know that Joseph Keller was the inventor of the Black Forest cake? It is rumoured that this cake was first created in 1915, however; a recipe did not appear in print until 1930.
After baking the chocola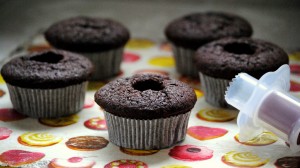 te cupcakes and allowing them time to cool, I hollowed out the centres to make space for the cherry filling (which I had pre-mixed with a spoon of sugar and cherry liquor). If you don't have the fancy little gadget / baking tool (more commonly known as a cupcake corer), you can cut a small section out from the middle with a sharp knife. It works just as well. To make the topping you can beat heavy cream with an electric mixer and add in a little powdered sugar and a spoon of vanilla essence.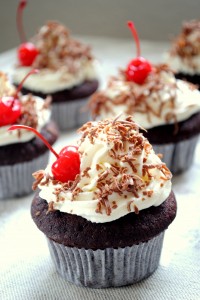 I am really chuffed with the way these cupcakes turned out. The moist, rich chocolate cake pairs so well with the cherry filling,  fresh whipped cream topping and chocolate shavings. This is definitely an adult cupcake, as it lacks the buttercream icing, that kids usually like. It's the kind of cupcake that pairs well with a strong cup of coffee while you relax on the couch with a good book. But it also is well suited as an after dinner dessert cupcake – the perfect portion and mix of something sweet after a satisfying meal.