IMAGINE- Chocolate, butter, Marshmallows, Nuts and biscuits. With everything that goes into this little treat, how could it not be delicious? But these aren't ordinary treats. These are to be considered "fashionista" treats as I found the recipe in an October issue of Vogue. They are the kind that pair well with a cup of afternoon tea, but also (and probably more preferably) with a glass of bubbly.
The recipe is very easy and you can whip these together in just a few minutes. Simply melt the chocolate with the butter and a couple spoons of syrup, then add the broken biscuit chunks, nuts and mini marshmallows. I tossed these in a lined loaf tin, so that I could ensure each slice of the log would b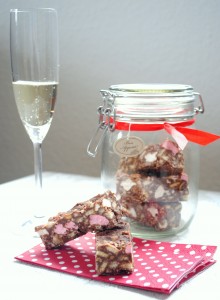 e at least 2cm deep. Allow them a couple hours to set in the fridge and then you can chop into logs and individual pieces.
While making these, preparing the ingredients and tasting the batter (an absolute MUST, as every baker and chef knows) I was instantly reminded of Smores, a beloved American treat. Having lived for 8 years in Cleveland, Ohio, I of course was all too familiar with Smores. For those who don't know what Smores are – this is a treat you can enjoy on a winter evening over a log fire or braai with friends: Two graham crackers, a piece of chocolate and a toasted marshmallow. You then sandwich the marshmallow on top of the chocolate and between the graham crackers. The chocolate melts and you have an amazing taste of chocolate, marshmallow and graham crackers all in one bite! Well that is the traditional way of making Smores, but as with everything, there are other creative alternatives. I have memories of Christian and I trying to warm up/toast our marshmallows in the microwave!
So overall, a quick and easy recipe but really delicious. Be warned though – these are rich. You will need to limit yourself to one (ok maybe two) per serving.